The Workspace Administrator Role
Workspace Administrators are typically project leads or principal investigators. Workspaces are not limited to one admin: you can assign this role to as many users as necessary for your project.
Workspace Administrators have the same permissions as a Standard User, but with four additional authorisations:
Manage access to their workspace and decide on users' permissions
Approve or reject Airlock requests created by Standard Users
View and download the workspace audit data
Customise the workspace by changing its description and image
If you would like to know more about the extra functionality available to the Workspace Administrator role, we recommend visiting Aridhia Learning Portal and enrolling in a Workspace Administrator course.
User Administration
Workspace Administrators can invite members to, and remove them from, a workspace. They are responsible for ensuring that only appropriate individuals are invited to become members of their workspaces. Get more detail on how to invite users to a workspace and assign them roles.
Airlock
Whenever a user wants to export material from a workspace, they use the Airlock function. This export request can only be approved by a Workspace Admin. This ensures accountability regarding the movement of potentially sensitive data out of your workspace. More details on how to approve or reject an Airlock request can be found in responding to an Airlock request article.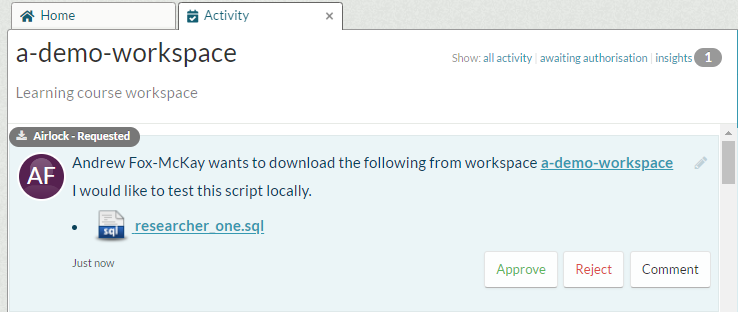 Audit
Workspace Administrators can track and monitor their workspace activity using the Audit tab. The activity log breaks down individual actions in the workspace into granular detail. It is a start-to-finish record of all activity taking place in a workspace, detailing:
Which users are using what resources and when
When the workspace was accessed and by whom
Which files have been created or deleted
More details on how to use the Audit tab can be found here.

Workspace appearance customisation
Workspace Administrators and Tenant Administrators have the permissions to edit the workspace description and project logo. More details on how to do this can be found in customising your workspace article.
Updated on September 1, 2023
Was this article helpful?