FAIR Data Services provides a number of themes to allow custom styles and colouring to be applied to the user interface. An administrator (or those with an appropriate role) can enable or disable themes that are available for users to apply to their browsing experience.
The current supported themes are:
Default: the standard FAIR Data Services theme
Dark: a dark theme with lighter fonts and icons on a dark background
Vibrant: a colourful theme with the primary colour of cornflower blue with light grey secondary highlights.
Enabling and Disabling Themes
Available themes can enabled or disabled by the service administrator (or those with an appropriate role). Theme Management can be found by navigating to 'Administer' in the menu and then 'Themes'.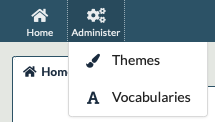 The supported themes are displayed in the Theme Management panel. One or more themes can be enabled or disabled via toggles.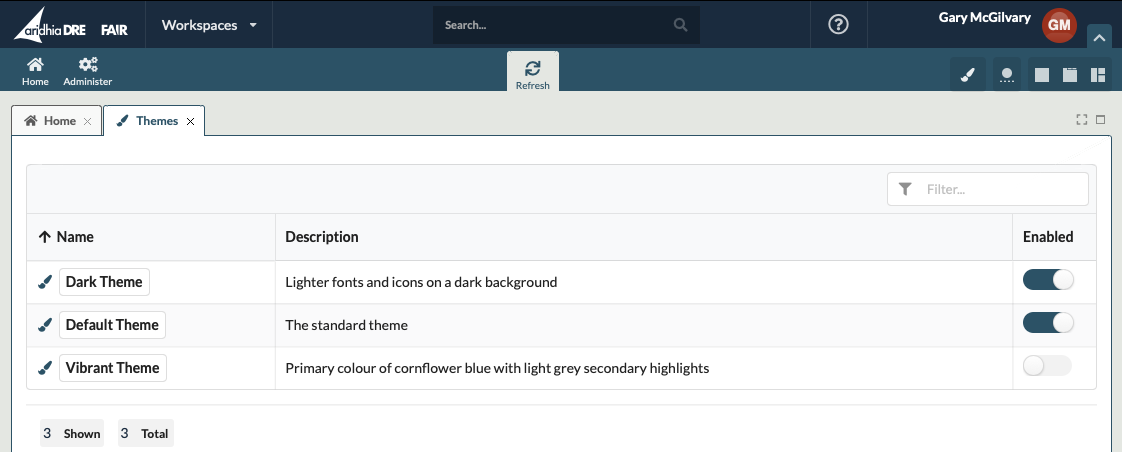 In this example, both the Default and Dark themes are enabled allowing users to choose either theme to apply to their use of the service.
Note: if only one theme is enabled, users are not given the option to change their theme.
Setting a Theme
Users can set a theme from those enabled by an administrator via the top menu bar.

Updated on May 11, 2022
Was this article helpful?