The Tenant Administrator Role
The Tenant Administrator (TA) is responsible for the creation and deletion of workspaces, as well as user administration.
If you would like to know more about the extra functionality available to the Tenant Administrator role, we recommend visiting the Aridhia Learning Portal and enrolling in the Tenant Administrator course.
Becoming a TA
Once you are signed up to Workspaces, contact your local Tenant Administrator or Aridhia Service Desk who can assign you the role of TA. If you don't already have an account on the DRE then follow the sign up process here.
Creating or deleting a workspace
Upon sign in with your TA credentials, you will see a list of workspaces that are hosted in your hub, as well as workspace summaries and their owners. From this main overview screen, you can add a new workspace as well as edit or delete an existing one.

User administration
Tenant Administrators also have user management permissions. They can invite and remove workspace members, change their user role, as well as appoint a workspace Owner. Instructions on how to do this can be found in this article.
Moreover, TAs can view all the users in their organisation. To do this, click 'Users' in the top left corner of the TA homepage.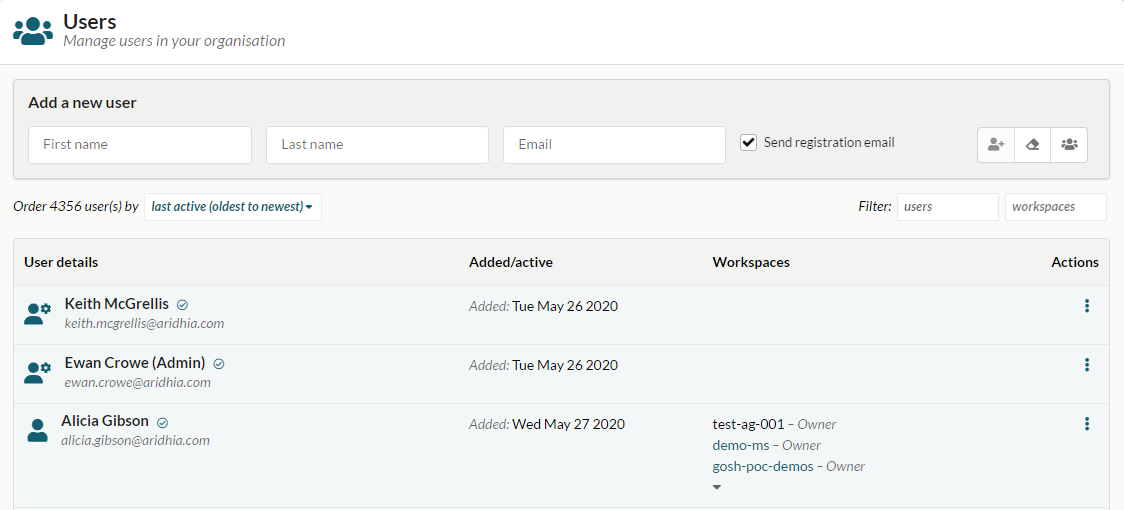 Ordering the user list
The user list can be ordered using the drop down at the top left of the list.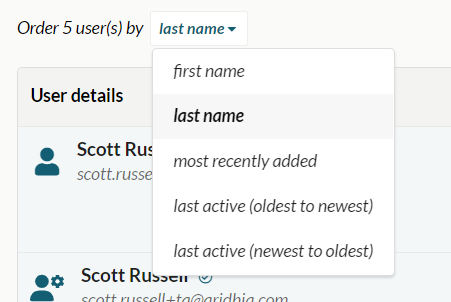 Ordering by 'last active' can surface those users that have not accessed workspaces for a considerable period of time to the top of the table.
Promoting or demoting another user to TA
From the user management list, a TA can use the 'Promote to Tenant Admin' action to upgrade another user to TA. A pop-out will be shown to confirm the action.

The same process is used to Demote a TA.

Disabling and Re-Enabling a User
From the user management list, a TA can use the 'Disable User' action to disable a user and remove access to Workspaces.

A pop-out will be shown to confirm the action.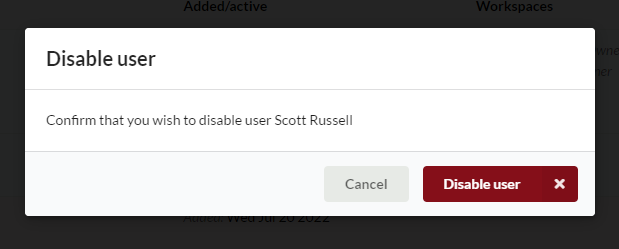 Disabled users are shown in red and have a 'pause' icon beside their name to distinguish them from enabled users.

On attempting to access Workspaces, a disabled user will be informed that their access is disabled and they must contact the appropriate administration should they require it to be re-enabled.
Note: If a user is an owner of any workspaces, they cannot be disabled until ownership of those workspaces has been removed. A pop-up prompt will inform the TA of the number of workspaces that user is an owner of. Ownership is transferred or removed using the individual workspace management UI.
Updated on September 28, 2022
Was this article helpful?