PMN transfers can be enabled from the dataset Manage tab, using the Allowed Delivery Formats option in the Data Access Requests section:

Data owners can choose the following options:
Clear data - data will be transferred in the clear
Pseudonymised data - data will be transferred after processing by PMN service.
If both options are selected, users will be given a choice of data transfer type when they submit a data access request.
Applying PMN rules
PMN rules are applied on a field by field basis. Data owners can do this is on the dataset tab.
Each dictionary table has a Pseudonymisation rule column: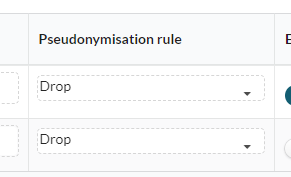 From here the data owner can choose the PMN rule they wish to apply to the associated field.
Updated on July 20, 2023
Was this article helpful?